Art
The Art program at GL Roberts CVI encompasses three main discipline areas:
Visual Arts;
Dramatic Arts; &
Music
Experiences in the arts - visual arts, drama and music - play a valuable role in the education of all students. Through participation in the arts, students can develop their creativity, learn about their own identity, and develop self-awareness, self-confidence, and a sense of well-being. Since artistic activities involve intense engagement, students experience a sense of wonder and joy when learning through the arts, which can motivate them to participate more fully in cultural life and in other educational opportunities.
Department Members:
C. Davis, Department Head
N. Hart
R. Birney
S. Floras-Matic
A. Vanderkooi
The Ontario Ministry of Education Curriculum - The Arts
Business and Computer Studies
Business activities affects the daily lives of all Canadians as they work, spend, save, invest, travel and play. Business has a significant effect on the standard of living and quality of life of individuals and their surrounding. Eventually, all students will encounter the world of business so they must be prepared to engage with confidence and competence. The business studies program will build strong foundation for those who wish to move on to further study and training in specialized areas such as management, international business, marketing, accounting, information and communication technology, or entrepreneurship. It will also provide practical skills for those who wish to move directly into the workplace.
The Business Studies program at GL Roberts CVI is expanding with both in person course options as well as access to a variety of elearning options.
Computer studies is about how computers compute, it is the study of ways of representing objects and processes. It involves defining problems; analysing problems, designing solutions; and developing, testing, and maintaining programs. Computer studies is relevant for all students because it incorporates a broad range of transferable problem-solving skills and techniques, including logical thinking, creative design, synthesis, and evaluation. It also teaches generically useful skills in such areas as communication, time management, organization, and teamwork. The computer studies program will build a strong foundation for those who wish to move on to further study and training in specialized areas such as computer programming, database analysis, computer science, education, computer engineering, software engineering, information technology and game development.
The Computer Studies program at GL Roberts CVI is beginning to expand with both in person course options as well as access to a vareity of elearning options.
Department Members:
D. Lewis, Department Head
K. Beresford
C. Leblanc
N. Hart
S. Till
The Ontario Ministry of Education Curriculum - Business Studies
The Ontario Ministry of Education Curriculum - Computer Studies
Canadian and World Studies
The Canadian & World Studies program at GL Roberts CVI encompasses three main subject areas:
Geography;
History; &
Civics/Law.
In learning these subjects, it will contribute significantly to students understanding of Canada's heritage and its geographical, social, cultural, governmental, legal, and economic structures and relationships. Students learn how to assess events, ideas and values, & how they affect them individually & as part of the community – locally, provincially, nationally, & globally. Courses in Canadian & World Studies will actively involve students in research, critical thinking, problem solving and decision making skills. Furthermore, our program will help them to develop stronger oral and written communication skills. Our students can apply these skills in other secondary school subjects, in their future studies, and in today's rapidly changing workplace.
Department members:
T. Martorelli, Department Head
E. Dunn
M. Kuchirka
J. Post
S. Floras-Matic
The Ontario Ministry of Education Curriculum - Canadian and World Studies
Cooperative Education
Teachers:
D. Lewis

M. Kane

J. Slugg
The Co-operative Education Department is the place to go for information about:
an opportunity for secondary school students to experience a destination that may be part of their future
a valuable experience for students who are exploring their options for the future
earning two or four credits outside the regular classroom
Cooperative Education is a program that allows students to earn secondary school credits while completing a work placement in the community - 220 hours for a typical 2-credit co-op term.
A student's Co-op program consists of the Cooperative Education course, which is monitored by a Cooperative Education teacher and the related curriculum course (a course in any subject discipline, (e.g., business studies, math, technological education). Every student in Co-op must have a Personalized Placement Learning Plan (PPLP), which shows how the student's related curriculum course is being applied to their Co-op placement.
The Cooperative Education course consists of a classroom component and a placement component.
Placements are arranged for students by their school and follow Ministry of Education Policy and Procedures.
Access to a Cooperative Education Program is based on student readiness and program availability.
Cooperative Education gives students the opportunity to:
"Try-out" a career of interest
See the relevance of their classroom learning in a work setting
Develop the Essential Skills and Work Habits required in the workplace
Acquire a direct understanding of employer and workplace expectations
Gain valuable work experience to help build a resume
How Does Cooperative Education Help Students Meet Diploma Requirements?
Cooperative Education credits may be used to help you meet the 18 compulsory credit requirements for the Ontario Secondary School Diploma (OSSD)
Students must also earn 12 optional credits for the OSSD. There is no limit on the number of optional credits that may be earned through Cooperative Education courses.
The Ontario Ministry of Education Curriculum - Cooperative Education
Modern Languages
In the Core French program at GL Roberts, students are taught French as a subject. As students move through the grades in the secondary curriculum, they will develop the ability to use the French language with greater fluency, proficiency, and accuracy in an increased range of situations, and they will apply their language skills in more challenging and complex ways.
The Core French program at GL Roberts is typically offered through both in person course options as well as elearning options.
Department Members:
C. Hackett, Department Head
R. Ellison
The Ontario Ministry of Education Curriculum - French as a Second Language
English
Literacy development is a communal project, and the teaching of literacy skills is embedded across the Ontario curriculum. However, it is the English curriculum that is dedicated to developing the knowledge and skills on which literacy is based - that is, knowledge and skills in the areas of listening and speaking, reading, writing, and viewing and representing.
Language development is central to students' intellectual, social, cultural, and emotional growth and must be seen as a key component of the curriculum. When students learn to use language, they learn to value the power of language and to use it responsibly. Language is the basis for thinking, communicating, learning, and viewing the world. Students need language skills in order to comprehend ideas and information, to interact socially, to inquire into areas of interest and study, and to express themselves clearly and demonstrate their learning. Learning to communicate with clarity and precision will help students to thrive in the world beyond school.
Department Members:
C. Hackett, Department Head
J. Post
B. Korczynski
C. Lee
M. Kuchirka
A. Vanderkooi
T. Stone
M. Forsey
The Ontario Ministry of Education Curriculum - English
Guidance
Guidance and Career Education and Co-operative Education play a central role in the secondary school by preparing students for a complex and changing world. In particular, it addresses many of the important questions that students face at this time in their lives: How can they better manage their time, resources, and dealings with other people to improve their chances for success in high school and the world beyond? What useful knowledge, skills, and habits do they already have, and which can they improve, to achieve success in school and at work? How can they best chart a course for post-secondary education and work?
Guidance Staff:
Lynsie LeReverend (Guidance Secretary) ext 228020
Rebecca Hudgin-Moore (Head of Guidance) ext 228022
Julie Rossiter (Guidance) ext 228024
Nicole Hart (Guidance) ext 228021
Melanie Forsey (Credit Recovery/SAL)
For More Information on Guidance Related Items - click here
Health and Physical Education
Healthy Active Living Education curriculum helps students develop an understanding of what they need in order to make a commitment to lifelong healthy, active living and develop the capacity to live satisfying, productive lives. The expectations that make up this curriculum provides the opportunity for students to develop social skills and emotional well-being. The practical, balanced approach in all courses in this curriculum will help students move successfully through secondary school and post-secondary education or training, and into the workplace. In health and physical education, students will learn the skills needed to be successful in life as active, healthy, and socially responsible citizens.
The health and physical education curriculum promotes important educational values and goals that support the development of character. These include striving to achieve one's personal best, equity and fair play, respect for diversity, sensitivity and respect for individual requirements and needs, and good health and well-being. The content and the setting of learning in health and physical education make it unique in a student's school experience. Students are given opportunities to learn by doing through creative work, collaboration, and hands on experiences.
Department Members:
K. Beresford, Department Head
J. Rossiter
The Ontario Ministry of Education Curriculum - Health and Physical Education
Library
Department Members:
C. Lee, Department Head
C. Hackett
T. Stone
Mathematics
The development of mathematical knowledge is a gradual process. A coherent and continuous program is necessary to help students see the "big pictures", or underlying principles, of mathematics. Mathematics is evident in all areas of the curriculum, and can be found in every day life. Choose the right math pathway for your future, master the material, and become the master of your own life.

Department members:
D. Peel, Department Head
R. Birney
D. Ganz
C. Leblanc
M. Patterson
J. Verhoog
DDSB is partnered with Mathify (Homework Help). For more information - click here
The Ontario Ministry of Education Curriculum - Mathematics
Science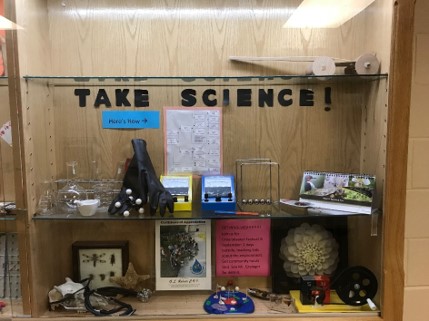 Science Curriculum
Science Teachers
Mr. W. Grainger, Department Head
Mr. K. Deegan
Ms. J. Moy
Mr. D. Ganz
Ms. A. Petric
Ms J. Slugg
Ms. R. Ellison
Science Courses/Pathways
The Science Department at GL Roberts CVI offers classes at the academic, applied, and essential levels in all three strands; Biology, Chemistry, and Physics.
The academic level courses are much more theoretical than the applied level courses and lead a student to further studies at university.
The applied level courses emphasize the applications of science more than the theory. They prepare the student for further studies in some programs at the college level.
The essential level courses are hands-on courses that teach practical skills related to science careers such as horticulture or landscaping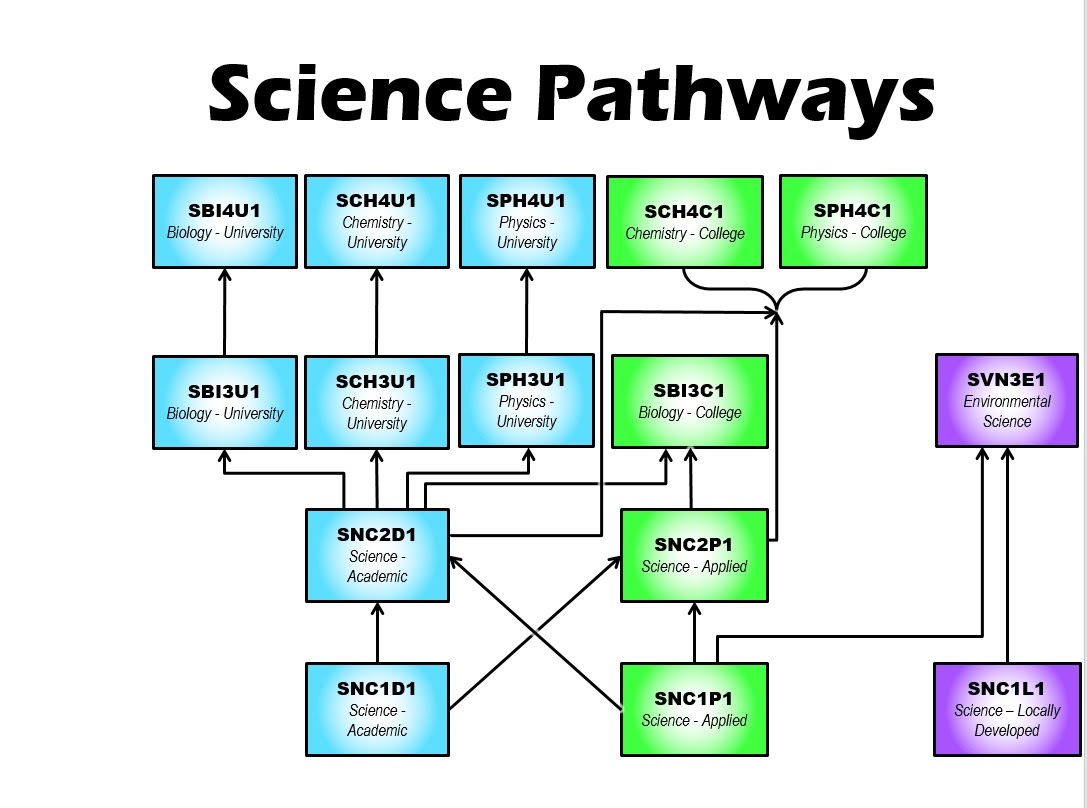 Science Clubs
The Science Department also offers three very exciting clubs for students; Groundwater Festival, Horticulture, and Robotics. Students are encouraged to take advantage of these unique opportunities at GL Roberts CVI.
Science in Action!
Photo Gallery: Science in Action will appear here on the public site.
Specialist High Skills Major (SHSM) Environment
Specialist High Skills Major (SHSM) @ G.L. Roberts
Social Sciences and Humanities
The discipline of social sciences and humanities in the Ontario secondary school curriculum encompass five subject areas: equity studies, family studies, general social sciences, philosophy, and world religion. Although these subjects areas are very different from one another, they all systematically explore ways in which individuals influence and are influenced by families, communities, cultures, institutions, and societies, and by ideas, norms, and values.
Students in social sciences and humanities develop a critical lens through which they can build their awareness of and make decisions with respect to critical issues in our increasingly complex, multifaceted, and diverse society. This discipline helps to build understanding about individuals, families, and diverse groups - what people think, how they live, and how we all interact with one another and the world around us. Knowledge and understanding developed through the study of social sciences and humanities can help inform discussion on critical social, economic, technological, environmental, and wellness issues, and can provide strong foundations for vibrant, healthy, and engaged citizenships.
Department Members:
C. Davis, Department Head
A. Harris
R. Birney
J. Moy
M. Kuchirka
J. Slugg
Inclusive Student Services
Department Members:
A. Reid, Interim Department Head
S. Floras-Matic, SERT
M. Jovel
A. Morra
J. Mishalkowsky
K. Kavitzky
M. Kane
A. Morris
T. Stone
L. Burkholder
Inclusive Student Services within DDSB
Special Education In the DDSB - Many Paths To Success
Technological Education
Technological education focuses on developing students' ability to work creatively and competently with technologies that are central to their lives. The power, reach, and rapid evolution of technology demand a curriculum that will enable students to become technologically literate. Students need to acquire the technological skills and knowledge that will allow them to participate fully in a competitive global economy and to become responsible citizens in an environmentally vulnerable world. Students learn to become effective problem solvers and critical thinkers, able to understand, question, and respond to the implications of technological innovation. Technological education can provide knowledge and skills that will enhance their daily lives, whether by enabling them to work on home renovations or car repairs or by allowing them to pursue technological hobbies.
Department Members:
D. Lewis, Department Head
M. Patterson
S. Till
B. Grainger
M. Kovacevich
Specialist High Skills Majors (SHSM) Transportation Technology SHSMs at GL Roberts:
ENVIRONMENTAL
TRANSPORTATION
For more information regarding SHSM's - click here
The Ontario Ministry of Education Curriculum - Technological Education