GL Roberts 50th Anniversary
Accommodations
We have two terrific accommodation options for you to choose from while visiting Oshawa for GL's 50th anniversary. Both accommodation options are within a ten minute drive to the Tribute Community Centre and G.L. Roberts making them convenient options for your stay.
Holiday Inn Express & Suites - 67 Simcoe Street North , Oshawa, Ontario L1G 4S3
Please note the terms:
Friday, October 21st and Saturday, October 22
Room Type: King Bed or Two Queen
Price $119 plus tax per night includes breakfast and parking
The last date to make a reservation is September 21st. Late reservations after this date are subject to availability
$8 a day parking charge is included in your block price
Electronic reservations can be made at: GL Roberts 50th Anniversary
Once you click on the link, change the date of arrival and under "more options" our group "GLR" code will auto-generate.
Link Troubleshooting
All links are tested and verified prior to being released. If you are having problems with the link please:
Use the google chrome internet browser
Clear your cookies and internet cache
Ensure your group code is indicated
Double check the date is correct
Phone Reservations
We would be pleased to make your reservations by phone 24 hours a day! Please call 905-434-3666 and speak to the front desk (0) or reservations and quote the date, the group name and/or three digit code "GLR"
Courtyard by Marriott - 1011 Bloor St E, Oshawa, ON L1H 7K6
Event Summary:
G.L. Roberts 50th Anniversary Room Block
Start date: Friday October 21st, 2022
End date: Sunday October 23rd, 2022
Last day to book: Wednesday September 21st, 2022
Group rate: $149 CAD per night plus taxes
Single or double occupancy
Individual Cancellations: Any cancellations within 14 days prior to arrival are subject to One Night Room and Tax penalty
Hotel Features:
Ample onsite parking
24hr Business Centre
Courtyard Bistro/Lounge Open for breakfast & dinner (breakfast included)
Complimentary WIFI
Features a mini fridge, in room-coffee/tea maker, laptop sizes safe
Marriott Bonvoy Members receive points for each stay, along with member benefits

Saturday Social
What: Social Night - Reunion Social - 19+ event
When: Saturday October 22nd, 2022 - 7:00 pm - 12:00 am
Where: Tribute Community Centre - 99 Athol St E, Oshawa, ON L1H 1J8
Ticket Price: $45.00 and includes appetizers
*Limit of 10 tickets per person
Tickets can be purchased as follows:
In person at the Tribute Centre Box Office:
99 Athol St E, Oshawa, ON L1H 1J8
Hours of Operation: Monday to Friday - 10:00 am - 6:00 pm
By Phone at :
Hours of Operation: Monday to Friday - 10:00 am - 6:00 pm

Swag
RELAUNCH OF ONLINE CLOTHING WEBSITE!
Looking for past and present G.L. Roberts swag? Well look no further. We have put together an easy to access website where you can scroll through some swag options and place orders directly on the site. Cut-off date for orders is November 1st 2022 @ Midnight. Placed orders will be available for local pick-up at GL Roberts. Delivery is unavailable. Orders will arrive the week of December 19th. You will be notified via email. Please make sure your email address is correct at the time of ordering.
Online store login info below:
Username: GL
Password: ANNIVERSARY
If you purchased swag from our previous online order, it will be ready for pickup this weekend during the 50th anniversary at the school.
There will also be a Jostens table set up where you can purchase a G.L. Roberts letter jacket. Please see image below for information.
We will also have a table set up during the weekend of the 50th anniversary where you will be able to purchase select pre-made swag such as baseball caps, t-shirts, water bottles and mugs.
For questions regarding the purchase of swag, please use the "contact us" directly on the swag website. For any other questions regarding swag please email GLR50thAnniv@ddsb.ca

Open House
Saturday, October 22, 2022 - from 10am to 5pm
Please join us for our open house where you can explore the school and venture back through the last 5 decades. We will have decades rooms open for a trip down memory lane as well as exploring new additions to GL. Available during the open house will be the opportunity to buy a 50th Anniversary commemorative shirt, water bottle etc… or maybe you want to support our silent auction. Durham Hair Academy will be open for those looking to get ready for the evening celebration at the Tribute Centre. Food trucks will be available in the parking lot as you take a break from your adventure to refuel to continue your adventure celebrating the 50 years of Excellence at GL Roberts. Admission is free however, we are accepting donations to support future programs and bursaries for our students.
Official Opening Ceremony
Official opening ceremony will take place at 10:30 a.m. in the School Cafeteria. Please join us in officially celebrating the 50th Anniversary of G.L. Roberts C.V.I.

G.L. Roberts Legacy Fund: Friends of G.L.
Please follow the link below to make a donation to the G.L. Roberts Legacy Fund. This fund allows our school to continue our nutritional program, for our students to participate in experiential learning opportunities, and provides scholarships to our graduating students. We appreciate all of your support in the success of our student body.
Donate Now

Social Media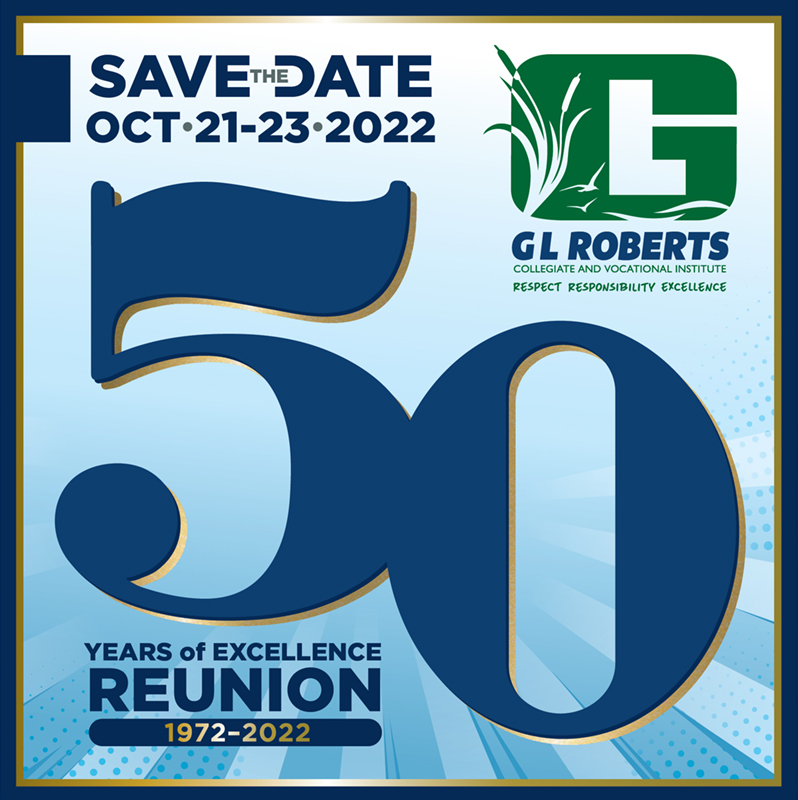 Sports
Please, join us for some intramural activities during the weekend! Come on out and reminisce about the good old days in the gym. We will be offering some friendly games of basketball and volleyball. Please do not forget to pre-register so you don't miss out.
Volleyball
Friday October 21st 2022, from 6-9pm

If you are interested in playing on a team, please contact Kira Beresford at kira.beresford@ddsb.ca
Basketball
PLEASE NOTE TEAMS ARE FULL AND WE ARE UNABLE TO ACCEPT ANY MORE PLAYERS AT THIS TIME.
Saturday October 22nd 2022, from 11:00 am-4:30pm

Teams are being made based on decades

To play on a team, you must be in good physical condition to play

If you are interested in being on one of the teams, please contact Kira Beresford at kira.beresford@ddsb.ca
Golf Tournament
We will be hosting a golf tournament on Friday October 21st at Kedron Dells
Cost is $120.00 and is to be paid through Cash Online

This includes a small breakfast, boxed lunch, round of golf and a golf cart

It will be a shotgun tournament starting at 8:00 am and will run as a four-person scramble

Maximum number of participants is 144

There will be prizes for closest to the pin and the longest drive

Staff Brunch
October 23, 2022, reception to start at 10am brunch served at 11am
Please register